Vintage signs & creations in wood
A few of my creations…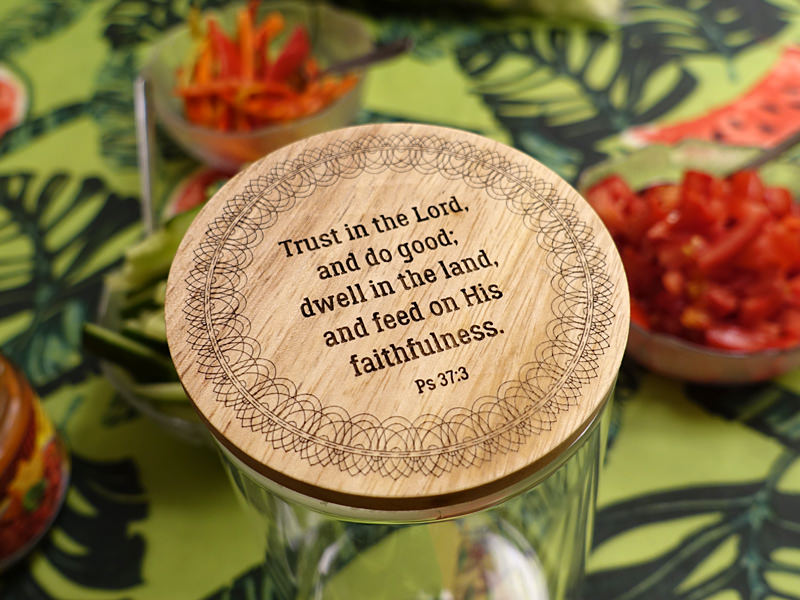 A customized jar.
A personalized jar for use in the kitchen or on the table, laser-engraved with a Bible verse and intricate "guilloche" style patterns.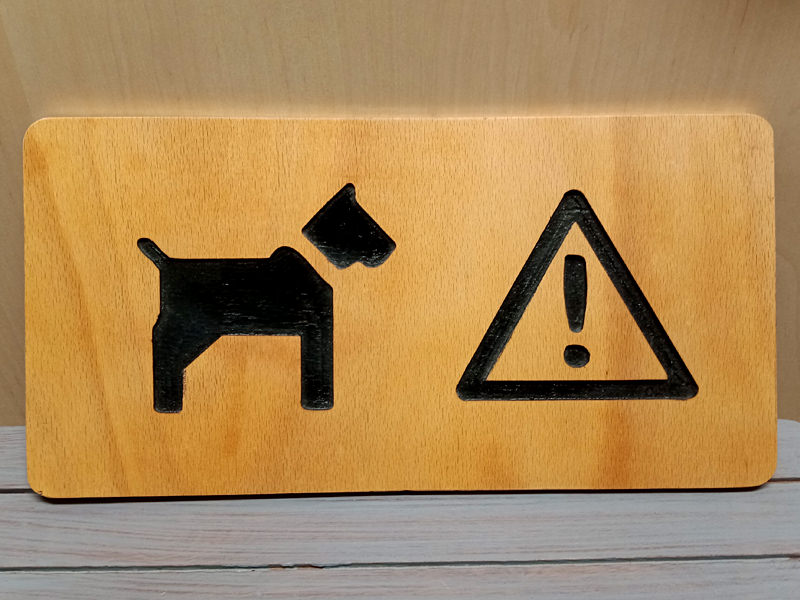 Beware the dog.
Without words, this sign intended for a front gate in the Foncenex neighborhood communicates its message across any potential language barrier. Note: The dog in question doesn't actually bite. Sign made from reclaimed plywood originating from a shipping crate.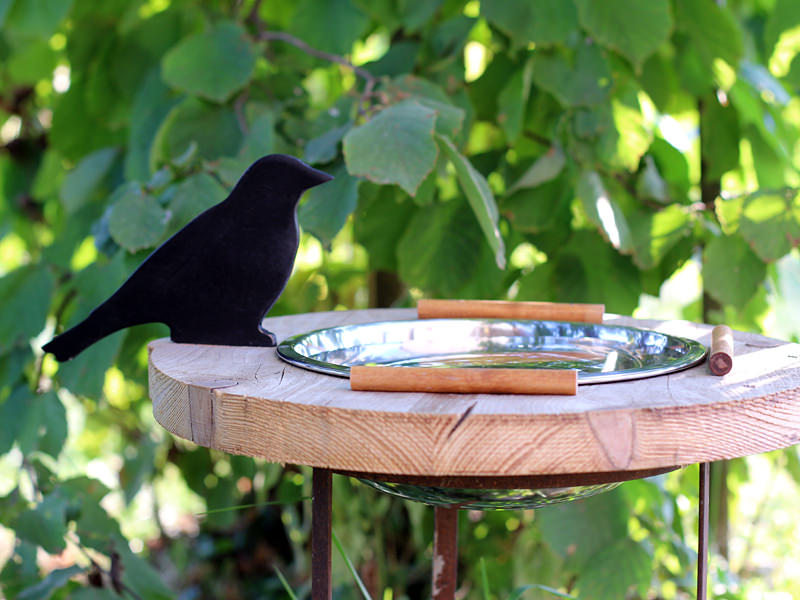 Bird oasis.
When the weather is sunny, all sorts of birds show up to drink, take a bath, or playfully chase each other around this little structure made from an old scaffolding board, an umbrella stand, and some plywood from a shipping crate for the bird.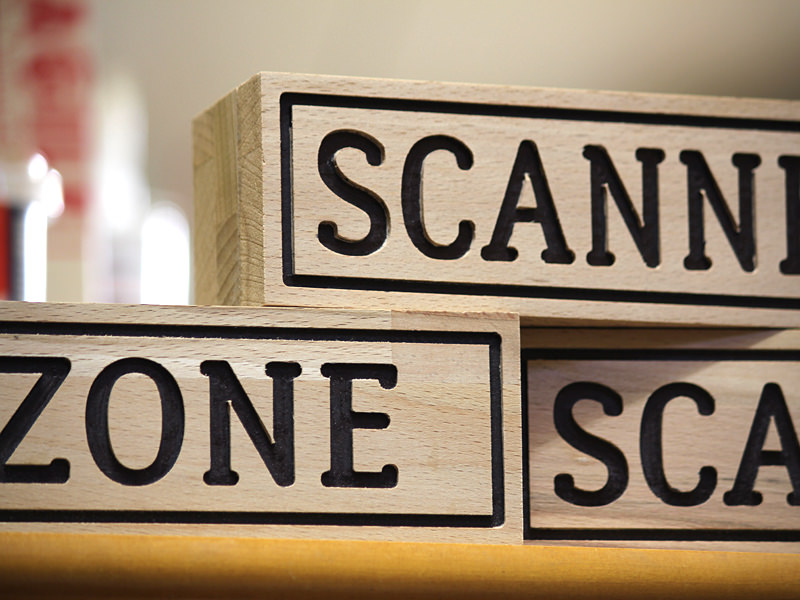 Blocky signs.
Inspired by ABC blocks, these signs are as deep as they are high and have a satisfyingly "solid" feel to them. Made from three layers of furniture-grade beech wood.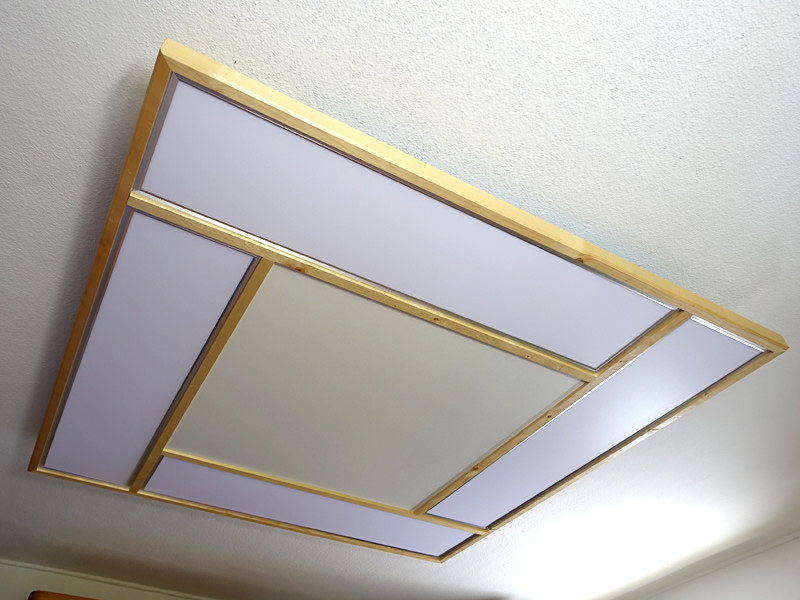 Ceiling lamp.
Modern LED panels are great for saving energy, but how well do they go with alpine-style solid fir furniture? The solution was this frame in Douglas fir, which only has a clear coating on purpose: The wood will naturally darken to match the furniture within a few months, and any added stain would make it look unnaturally dark.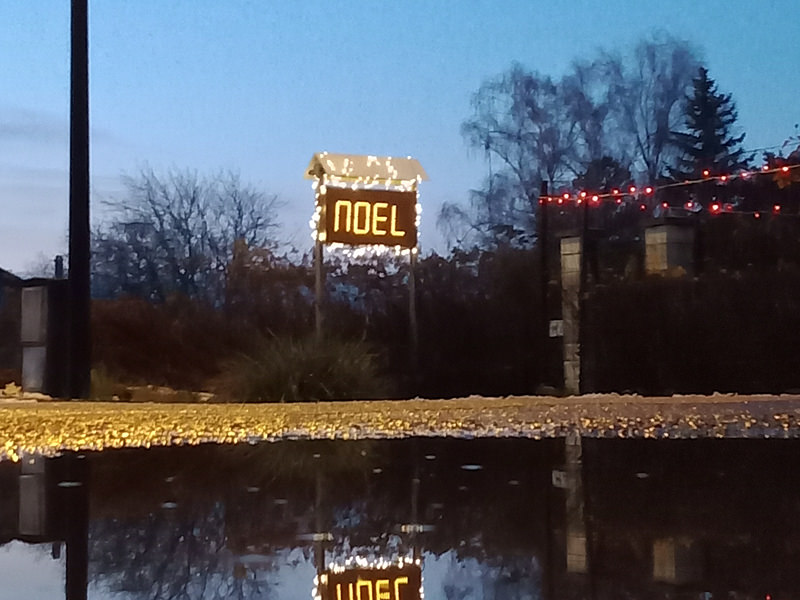 Christmas countdown.
Every year in December, this double-sided LED sign is mounted on a tall frame out front, right by the road. The message alternates between a rapid count-up to the current date and "bon Noël" ("Merry Christmas"). The little fairy lights are synchronized with the changing text. Made from leftover construction plywood, a bag of random electronics for classroom use, and an obsolete computer. Runs on Windows XP.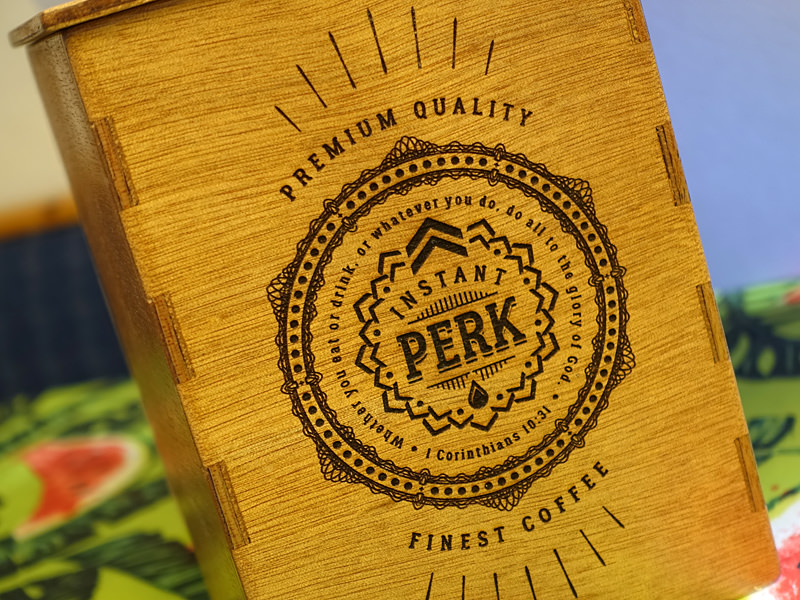 A home for coffee capsules.
Made from the backboard of a discarded drawer unit, this coffee box features an intricate laser-cut design on the front whose creation probably took me longer than building the box itself.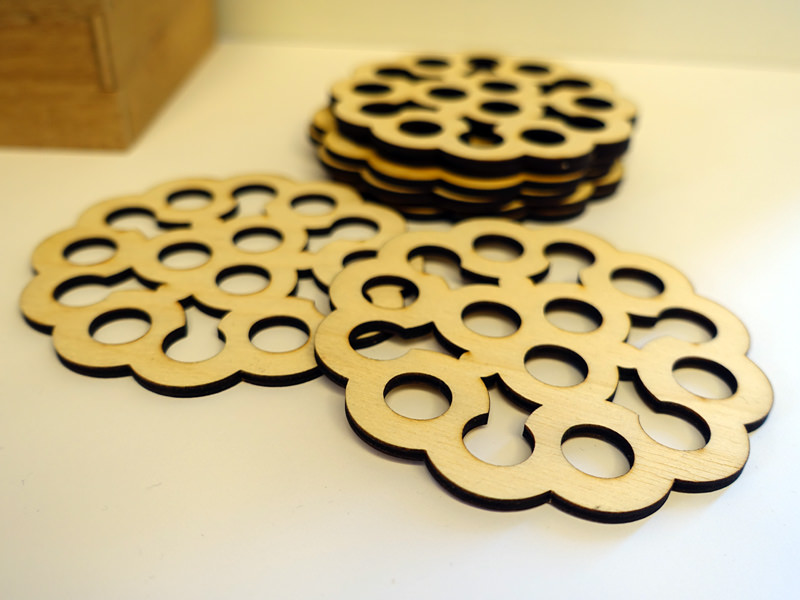 Modern coasters.
A set of laser-cut coasters made from leftover bits of plywood protect the table top and add a bit of flair. The world needs more flair. Absolutely.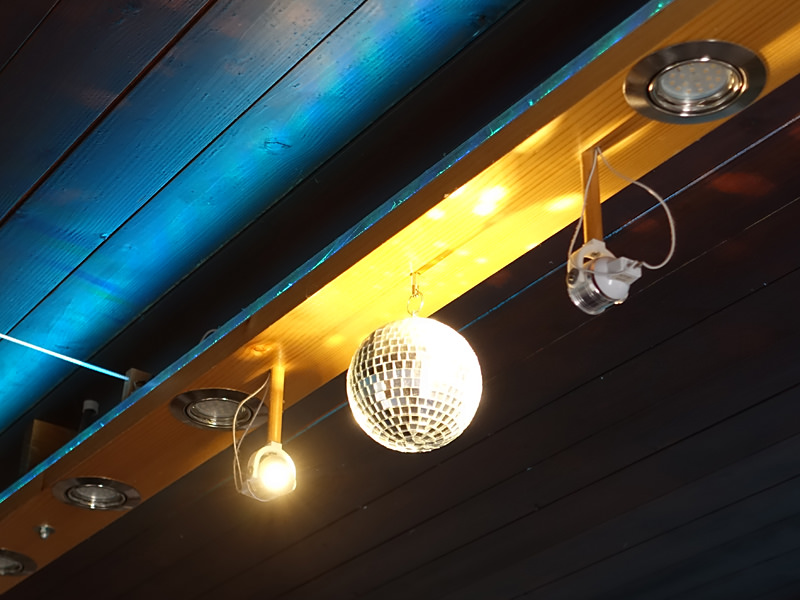 Multifunctional ceiling lamp.
Intended for a teenage girl's bedroom, this lamp adapts to… moods. The user can choose a mode (bright spotlights, colorful LEDs, disco ball with focused-beam spotlights) with a matching number of short tugs on a string hanging down by the door. A long pull on the same string allows more adjustment: Color of LEDs, number of downward spotlights…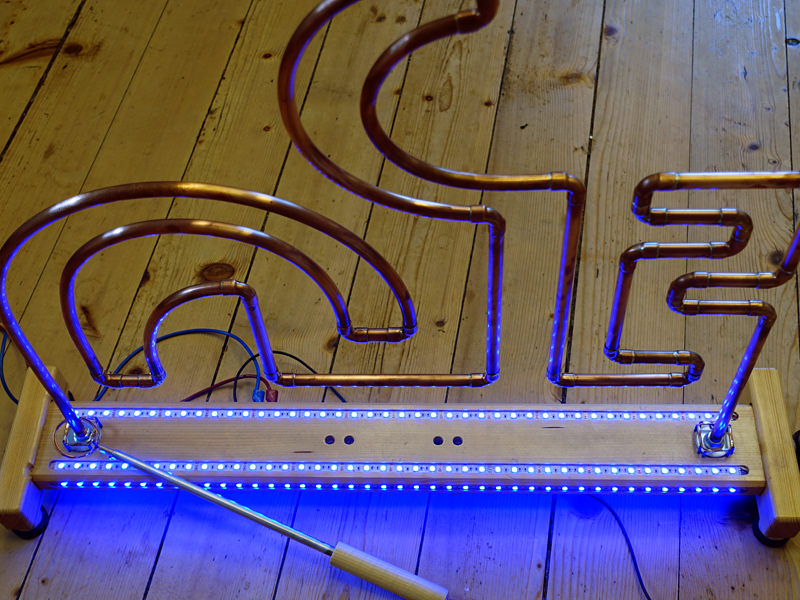 A simple electric game.
When I was a kid, every neighborhood party featured a game consisting of an elaborately bent copper wire and some loop at the end of a stick, which players were to maneuver around the circuit without touching the wire. If contact was made, a bell would ring and the game was over. This is a slightly modernized version of that game, featuring several rows of bright LED lights which turn red on contact, and an electronic buzzer with a shorter response time. Made mostly from leftover heating pipes.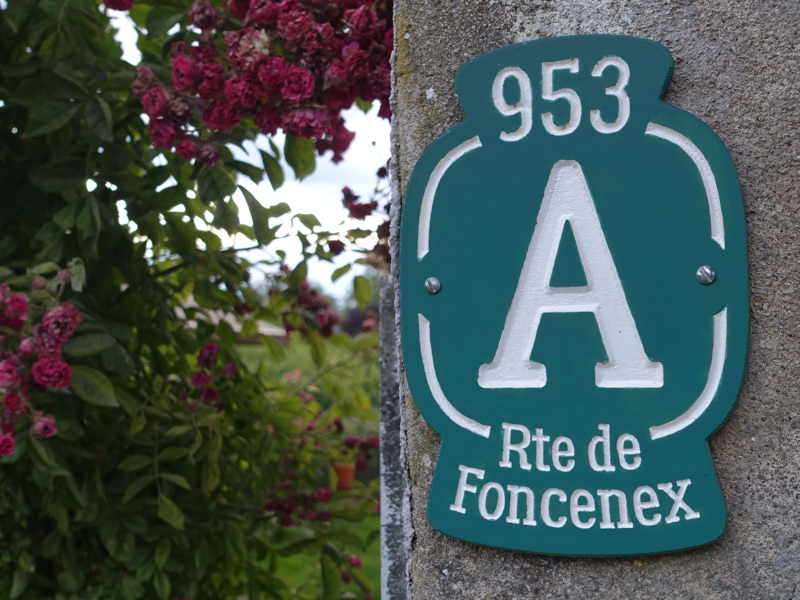 House number sign.
A stylish alternative to just sticking a soulless vinyl letter onto the mailbox, this classic sign looks like it's been there ever since house numbers were introduced back in who-knows-when.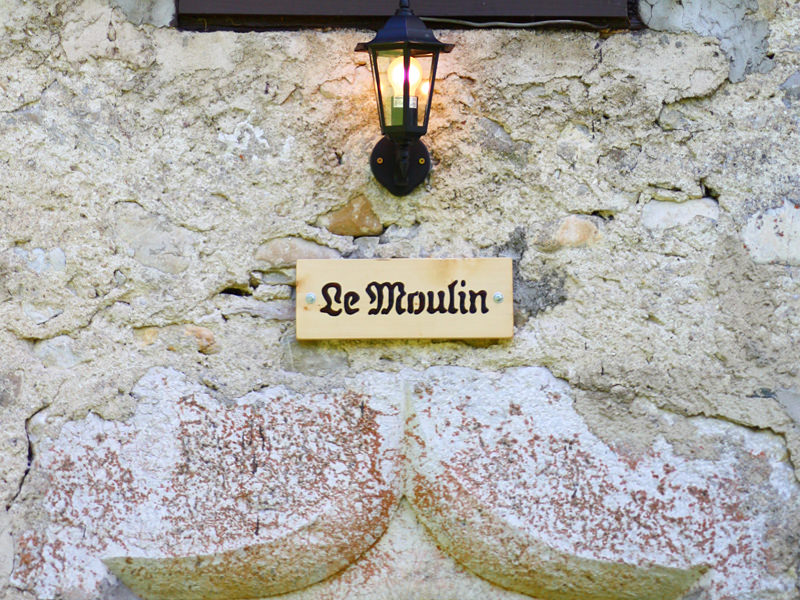 House name plaque.
Although this old house built around 1600 AD has received a house number a couple years ago, a plaque reminds hikers passing by that this house used to be a mill and was known only as "Le Moulin" for centuries.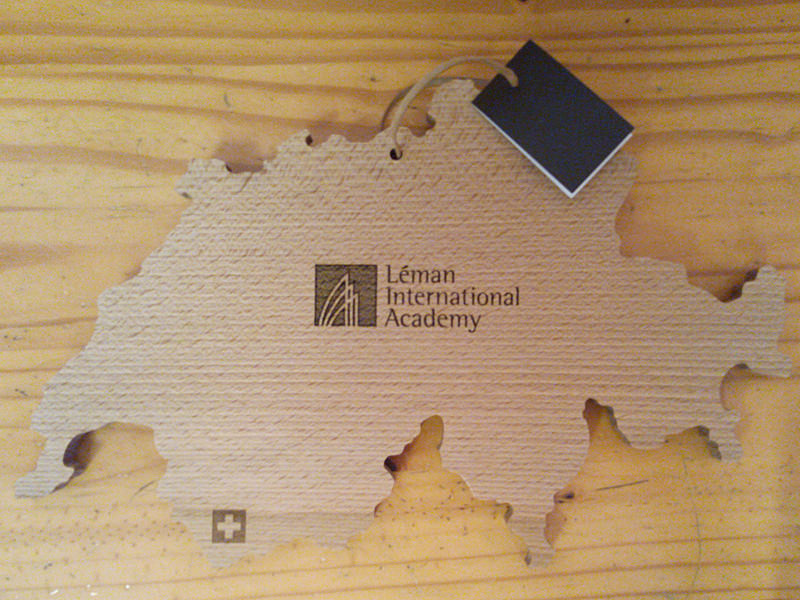 Personalized cutting board.
A farewell present from a private school in Switzerland, I personalized this cutting board in the shape of Switzerland with the school's logo.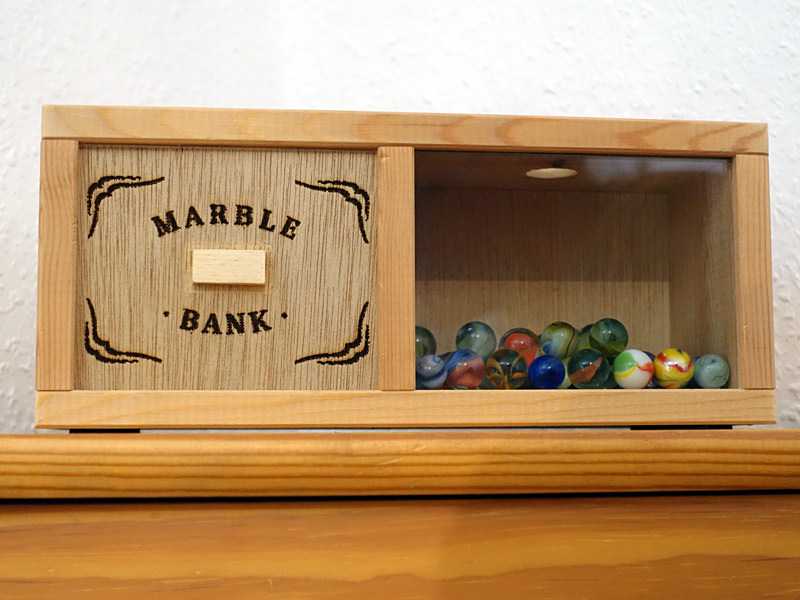 Marble bank.
With its sliding dispenser (left) and collection box (right), this marble bank allows collecting marbles awarded for unprompted help around the house and other acts of selflessness. A full box will fulfill a special wish… and then the collecting starts over again. Built with wood from a broken drawer and glass from an obsolete lamp.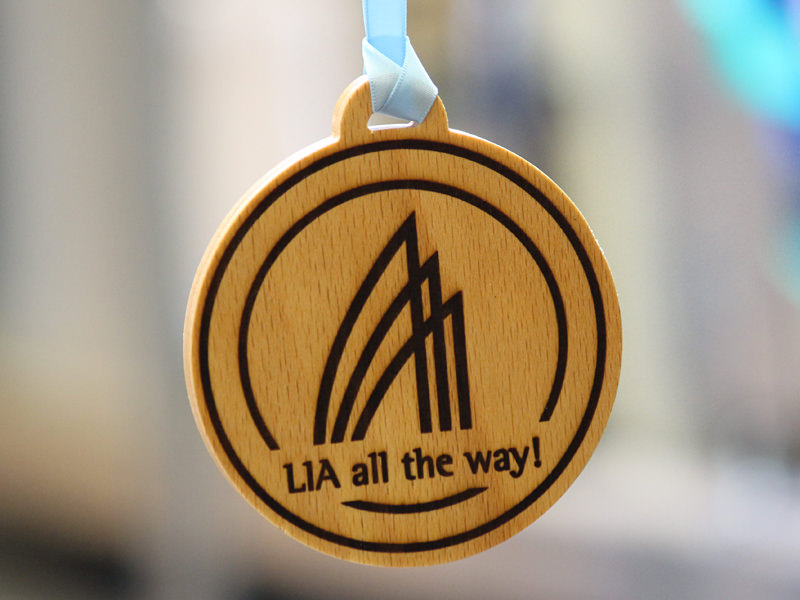 Awards and medals.
A token of recognition for outstanding perseverance, this medal is entirely made from reclaimed wood which can be cut to any shape and is much easier to personalize (printing, image transfer, traditional engraving, laser engraving) than the usual prefabricated metal or plastic blanks.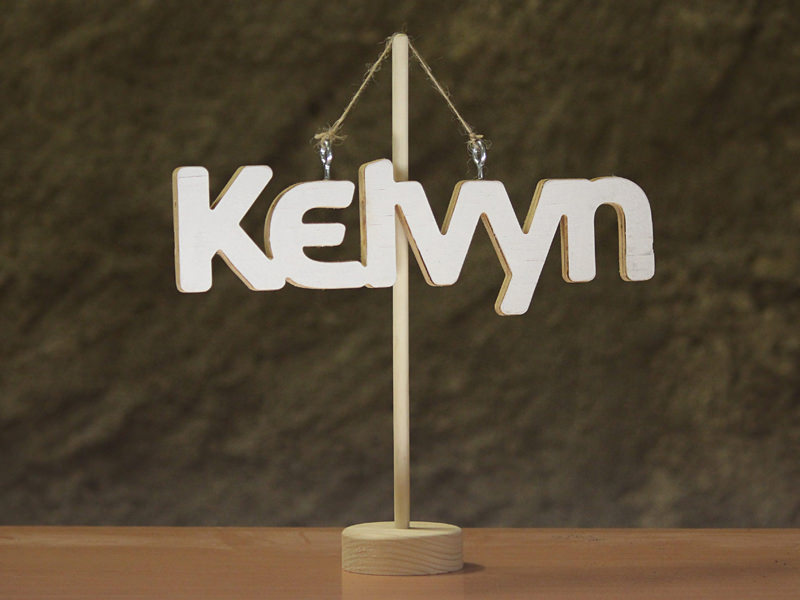 A hanging name sign.
Intended for a child's room door, desk, or wall, this little sign makes sure everyone knows who lives here.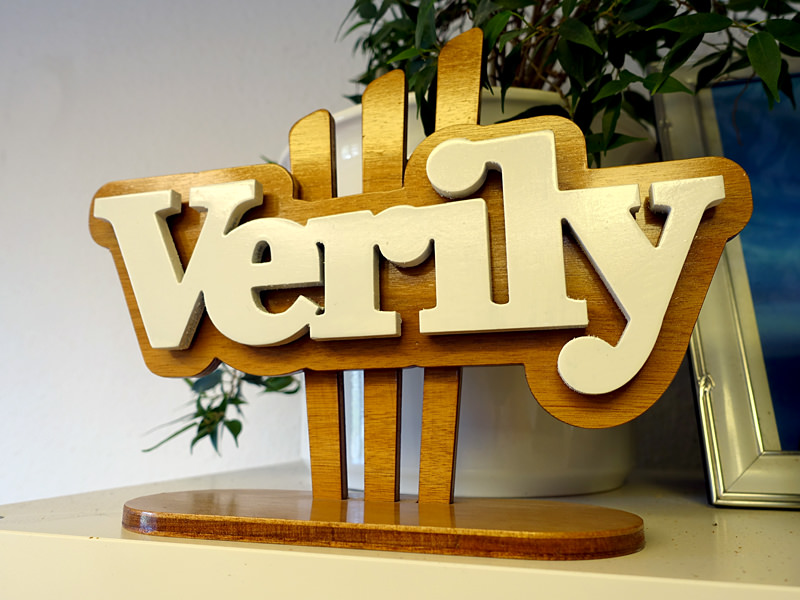 A retro name sign.
This glossy sign with a stand was inspired by "space age" signs from the American Midwest. Made from drawer-bottom plywood.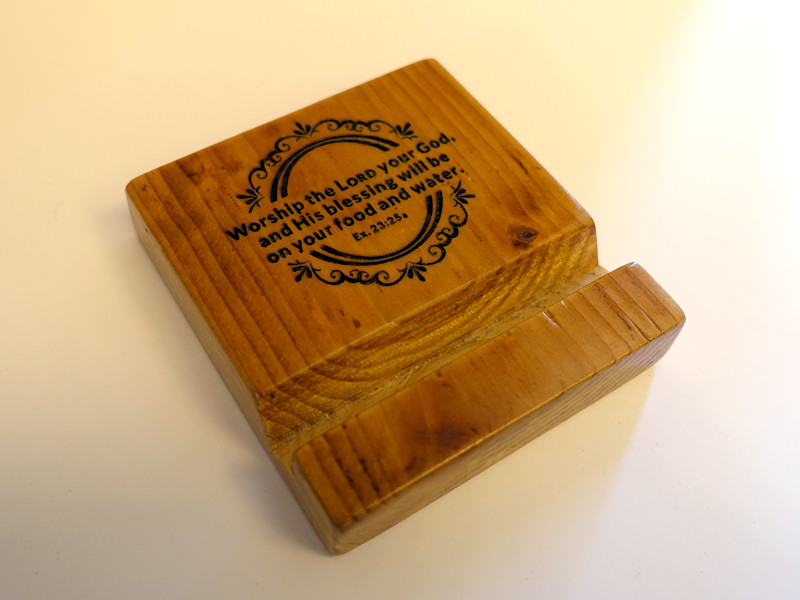 A simple phone holder.
Intended for the kitchen, laser-engraved with a homely design and coated with clear acrylic in order to preserve the rustic look of the pine wood.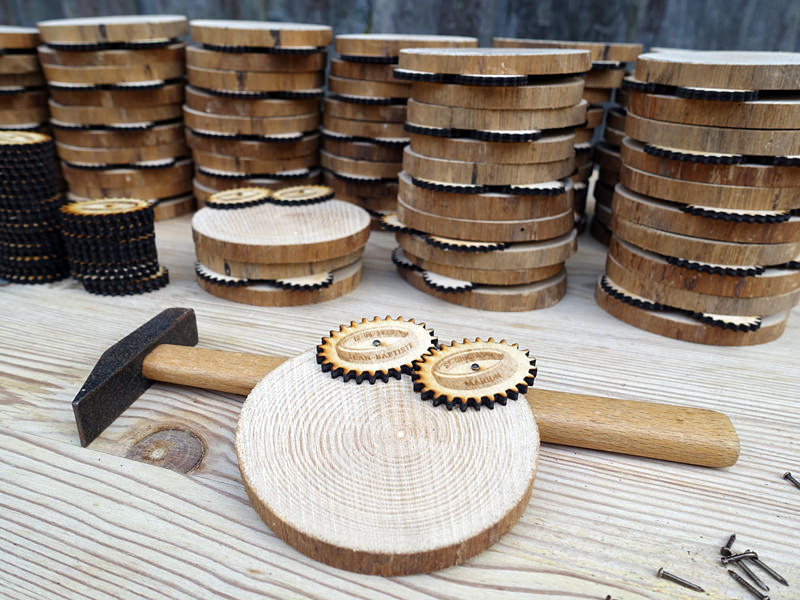 Wooden wedding place cards.
The small cogs are laser-engraved with rings showing the couple's names, the date and the location, making for a nice little souvenir. Counter-intuitively, the small oval cogs actually turn… but only together! Yes, it's a very profound metaphor, but it's also great to keep little fingers busy during long speeches.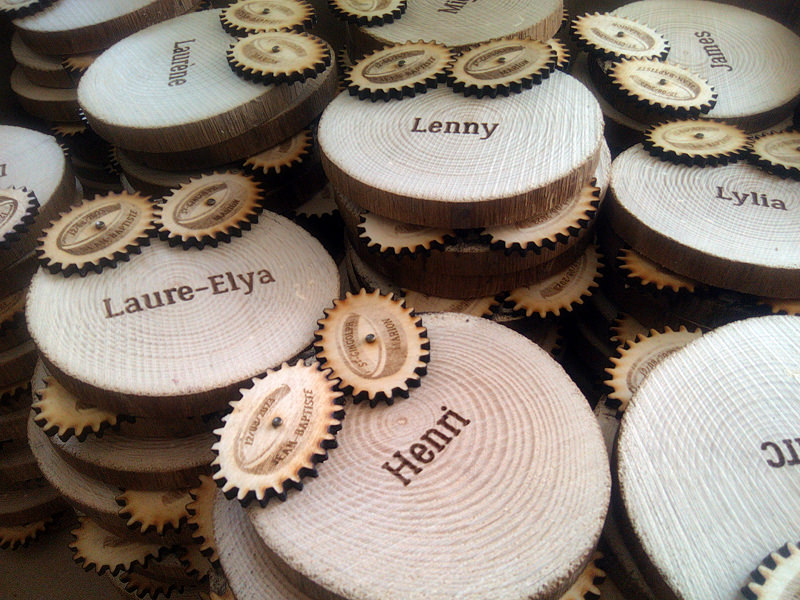 More wooden wedding place cards.
The names are engraved with a laser onto a slice of hardwood harvested from our own little piece of forest.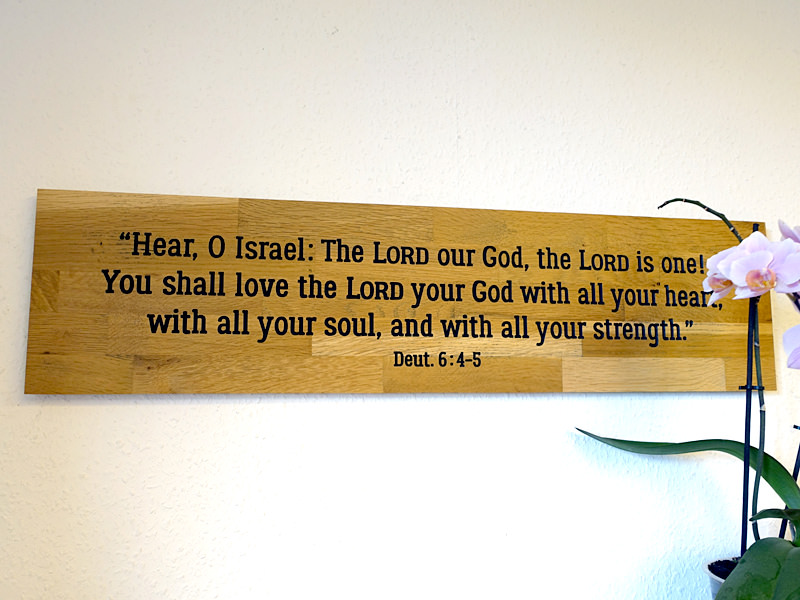 A Bible verse plaque.
The words are mechanically engraved into a heavy board of furniture-grade beech wood and filled with black enamel paint. A coat of clear lacquer protects the surface and gives it a very "valuable" feel.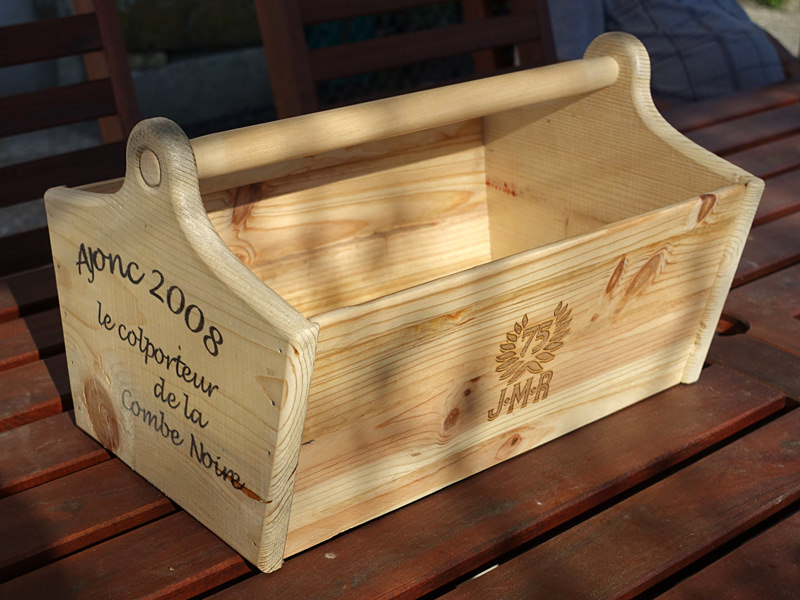 A simple toolbox
Created from old wine crates, this solid toolbox carries a lot of weight. Personalized with laser-engraved initials as a 75th birthday present.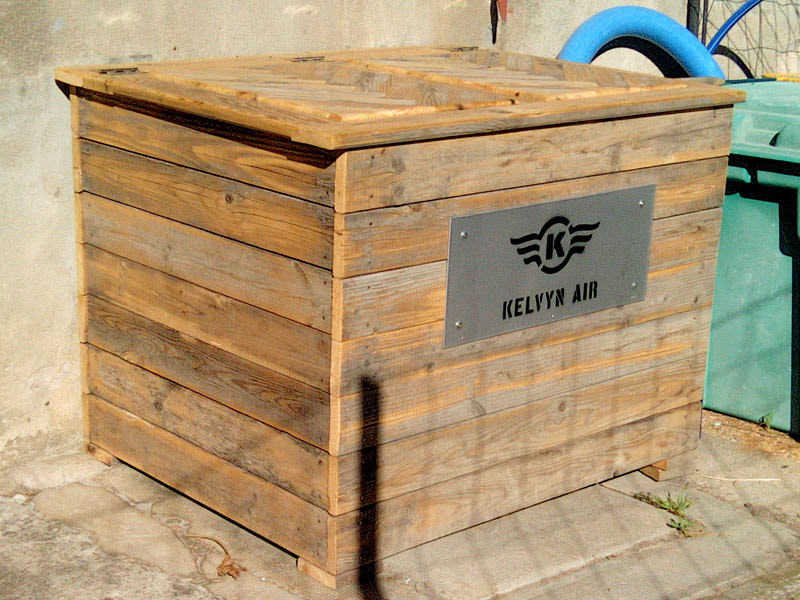 A sturdy box for outdoor toys.
Wood from single-use (or "one-way") palettes is ideal for making outdoor furniture. This large box will fit a heap of skateboards, balls, and toys, providing perfect shelter in all weather conditions.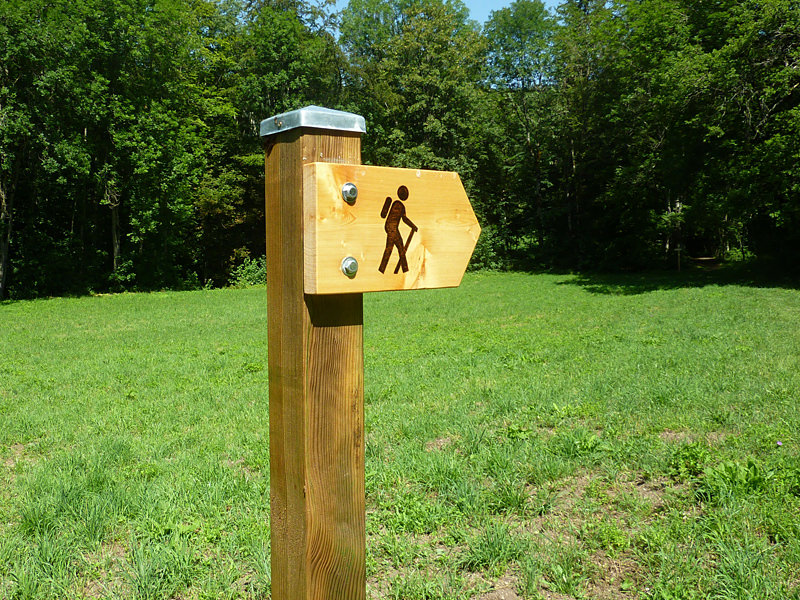 A rustic hiking trail sign.
Nothing looks better in nature than wooden signs.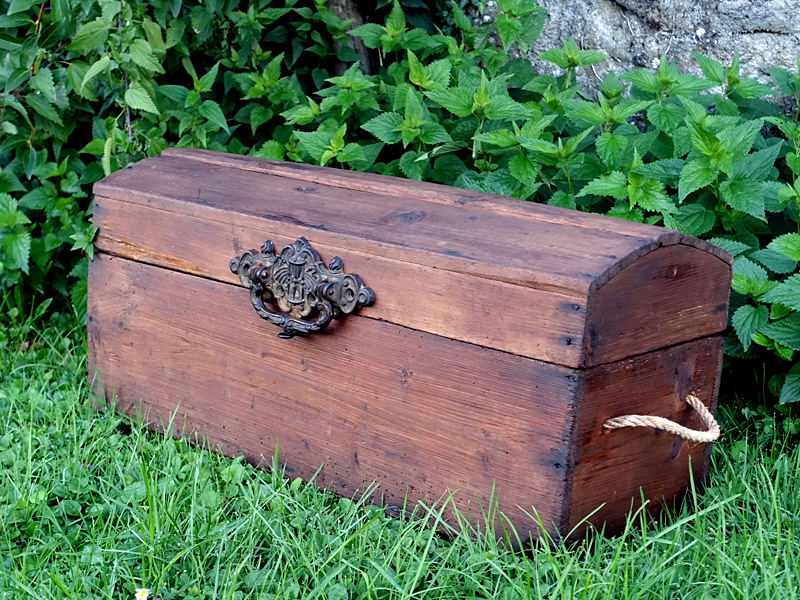 A trasure chest.
Made for use in a pirate-themed classroom setting, this rustic box is a fun way to store rewards which students may choose upon successful completion of certain challenges. Made from very old furniture boards.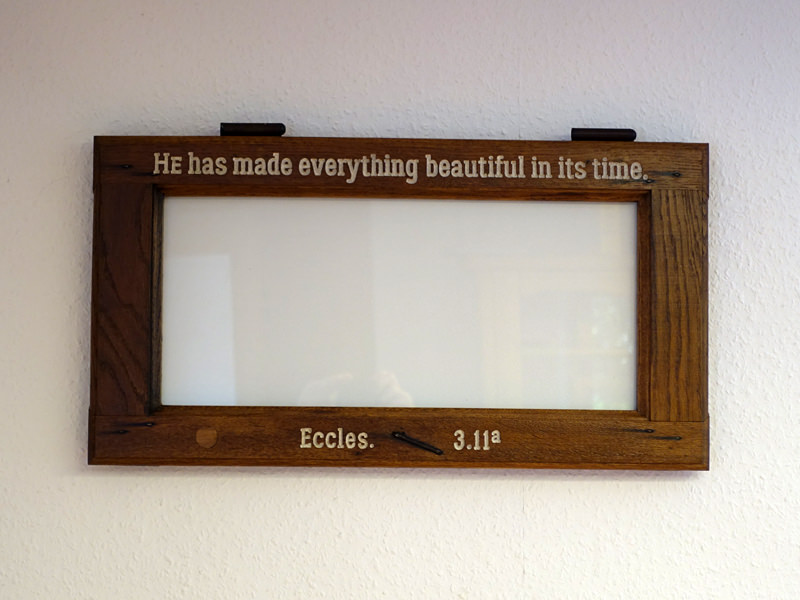 A window frame picture frame.
Engraved with a verse from the Bible, this obsolete window frame from a Swiss farmhouse now serves as a picture frame in a house in Tennessee.